Buy. Sell. Trade.
TheWristWatcher is a Luxury Watch Dealer located in Staten Island, NY
Receive a quote within minutes! No endless back and forth communication. We pay on the same day. Schedule an appointment or email me today. 
120,000

Followers on Instagram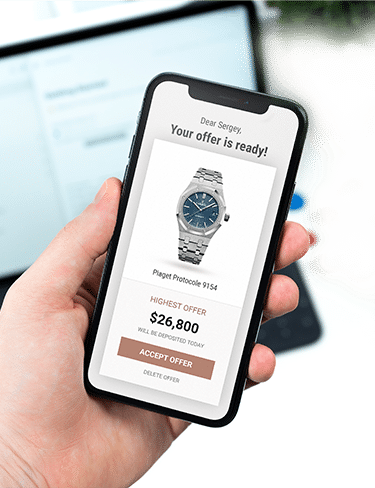 Secure, Easy, and Fastest Way to
Sell Your Watch Way to Sell Your Watch
NEED A QUOTE FAST?

Contact The Wrist Watcher by email at joey@thewristwatcherinc.com or fill out the form above to receive a quote, instantly.

TOP MARKET PRICE OFFERS

We know your time is as valuable as ours. We give you our highest market price offer for your Rolex, Patek Philippe, Omega or any other high end luxury watch.

ZERO RISK TRANSACTIONS

You can come to our office, located in Staten Island or we can provide you with a pre-paid, overnight, shipping label through UPS. Everything is insured, and you're 100% protected.

FAST, EASY & CONVENIENT

Receive an offer, send your watch, get paid the same day. It's that simple.

TRADE IN YOUR WATCH

Are you looking to upgrade your current watch? TWW has an endless inventory of any luxury watch brand. Are you looking for a specific Rolex watch? Reach out and we'll be glad to assist in finding you, your dream watch.
What
some of
customers
say
"Joey is one of the best at what he does! He answered all of my questions no matter how silly they were. Communication was a breeze. Everything arrived exactly as described in what felt like lightening speed. We have bounced around from different Vendors before but we have definitely found our go to watch guy!!"

"Joey is a master of his kind. Time is everything (no pun intended), yet Joey still goes out of his way to make sure you leave as a satisfied customer. With his personal demeanor and excellent interpersonal skills, Joey will never steer you in the wrong direction. Thank you, Joey for your help with a great and seamless purchase."

"Joey was amazing start to finish! He sourced exactly what I was looking for and delivered a great piece. You can expect a pleasant and personal experience from start to finish. As well as fair prices and a great atmosphere if you visit his location. Joey took the time to make sure everything was right and I look forward to doing more business with him!"

"Joe "The Wrist Watcher" is a class act. If you're in the market for a new time piece, he is your guy. If you're looking to be treated well, being offered a fair trade-in value for your watch and and making a new purchase with an amazing selection of watches (if he doesn't have it, don't worry, he can source it) this is your place!! I have personally known Joe for about ten years and five Rolex's later with flawless transactions each time."